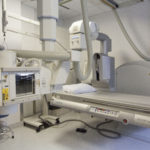 Change is in the air at the Lachine Hospital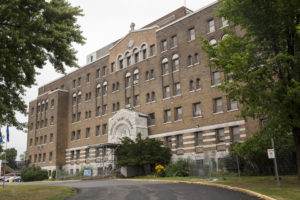 Vicky Michaud
 Photos : Isabelle Bergeron
Since becoming part of the McGill University Health Centre (MUHC) in 2008, the Lachine Hospital has been working to ensure its long-term viability. To that end, with a $70 million investment announced in December 2016 and earmarked for renovation and expansion, the hospital's management has been able to acquire state-of-the-art technology for its specialty areas, related to geriatrics.
"I've worked in a number of places since my career began in 2000," says Éric Desrosiers, a magnetic resonance imagery technician, pointing out the interesting aspects of a new machine acquired in February, "but I've never seen such a sophisticated set-up. You can really see the effect it has on the patients too. They're a lot calmer."
Not only is the interior of the machine ten centimetres wider than usual, at 70 cm, which reduces the feeling of claustrophobia for obese patients, but a specially angled mirror set up at the patients' feet helps them get a reassuring view of their surroundings.
The oversized room, with a trompe-l'œil sky on the ceiling, also helps patients feel less trapped.
"We might not yet be widely recognized as the centre for bariatrics in the West Island, but we're definitely getting there," says Desrosiers.
The department has operating rooms that are specially designed for particularly demanding surgeries.
Specialized clinics.
Among the other Lachine Hospital specialties related to geriatrics, particular attention is also focused on ophthalmology.
For just over a year, health care workers have been administering injections intended to counter the effects of macular degeneration.
"We do somewhere between 40 and 50 procedures a month. We've been seeing a marked decrease in inflammation, and the vision of some of the patients often improves after the injection. Sometimes we get a little miracle," says Marie Plamondon, the nurse in charge of the department.
Among other things, the department also treats cataracts and offers laser treatment for glaucoma, as well as providing treatments specifically aimed at diabetic patients, like angiography, which helps to identify infections and inflammation by injecting a dye into the blood vessels of the eye.
In Spring 2016, the Lachine Hospital inaugurated its all-new, $4 million dialysis unit. With 15 chairs, it accommodates the blood-filtering needs of up to 90 patients a day.
Expansion
The next improvements to the hospital should get underway in 2018. After extensive consultations with staff, nurses and doctors, management is ready to move forward with its plans.
"Instead of building a facility that wouldn't allow us to give our patients the best care possible under optimal conditions, our employers chose to consult with us and consider our ideas. That's why the intensive care centre will be moved right next to the new emergency wing," points out Manon Latendresse, the head nurse of the emergency department.
After having gone through many years of constant budgetary constraints, the health care centre – which dates back to 1913 – is seeing better days. In addition to the new, cutting-edge facilities and equipment, the Lachine Hospital will eventually have ten palliative care beds.
When all the work has been completed, there will be more space between beds in emergency, quieter and more private modern rooms, and a second bed in the trauma room.