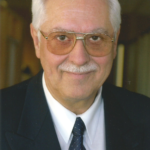 Mr. Gilbert Thibeault Member of the Board of Governeurs Lachine Hospital Foundation
It is with profound sadness that the Foundation announces the passing of Gilbert Thibeault, a member of the Board of Governers. He is survived by his wife Ginette Gauthier, his son Daniel, his daughter Carole, and other family members.
Throughout his career, M. Thibeault contributed greatly to the fabric of the Lachine community. He was the Chairman of the board of directors of the Centre Hospitalier Lachine for 14 years, and served as Chairman of Caisse Desjardins Lachine for over 20 years. In 2021 with much enthusiasm, he joined the Board of Governors of the Lachine Hospital Foundation.
The Foundation offers his family its sincere sympathies, and thanks M. Thibeault for his dedication to the Lachine Hospital.