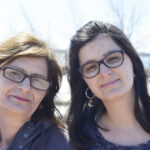 Lachine Hospital ER goes the extra mile for patients
Lachine Hospital ER goes the extra mile for patients
When Mila Stoyanova's mother, Yuliana Furnadzhieva, began to have abdominal pains, she knew they needed to go to the emergency room. Yuliana is a cancer survivor, and Mila feared that something could be seriously wrong. We have all heard stories about long waits at the ER, and Mila worried that the fact that her mother was visiting from Bulgaria could complicate things. When they arrived at the Lachine Hospital emergency department, her fears were allayed.
"From the moment we arrived, everyone was so helpful. Even though my mom isn't Canadian, the staff understood our situation and did everything they could to help," says Mila.
Yuliana was seen by Dr. Andrei Liveanu, who was concerned about her condition. She had undergone abdominal surgeries in the past, and he wanted to ensure nothing was wrong. He ordered multiple tests, and sent her to have a CT scan.
"Dr. Liveanu was very attentive, and as my mom went through the various tests, every staff member we met was smiling and happy to help," says Mila.
When Yuliana had her scan, she and Mila were delighted to learn that she could receive instructions for the procedure in her native Bulgarian.
"I was so surprised that they could accommodate my mom, who doesn't speak French or English, in that way. Even so far from Bulgaria, she was able to receive instructions in the language she is most comfortable in," says Mila.
The Bulgarian instructions, and those in other languages, are an initiative of the Lachine Hospital radiology department. Whenever they have patients come in who know other languages, they ask them to record instructions to help allophone patients. The result is a personalized and comforting experience for those undergoing medical scans.
To help Lachine Hospital's friendly and knowledgeable staff continue to provide top notch care, the hospital is undergoing a $210 million renovation and expansion. Among numerous improvements, the ER will be renovated and expanded to better serve Lachine and its surrounding communities. The goal is to ensure every experience is as pleasant and seamless as Yuliana's was.
With the help of the staff at Lachine Hospital, the source of Yuliana's pain was identified and she is doing well. Mila is relieved and grateful to all of the staff who helped her mother.
"It was such a fantastic experience, I already told all my friends to go to Lachine Hospital," says Mila. "Everything from the care itself to dealing with accounting to process my mother's insurance claim was smooth."
To support the revitalization of Lachine Hospital, the MUHC Foundation and the Lachine Hospital Foundation are raising $5 million to purchase state-of-the-art equipment not covered by government budgets. The new equipment will provide Lachine Hospital's health professionals the tools they need to let their expertise shine. To learn more and to donate, visit https://lachinehospitalfoundation.ca